Welcome to DecksNJ.com, most of my clients call me "Joe Decks".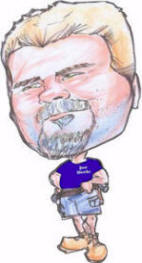 Formerly a New Jersey custom home builder, I
decided to focus on one specialty I loved the most, designing and building custom decks, porches, pergolas, arbors, and gazebos, as well as other unique outdoor garden structures.

I offer a line of pre-designed deck and pergola packages, for the starter home or budget minded, to semi-custom, requiring new designs and plans, right up through to a "Designer Series" line, for higher end custom decks or pergolas, which have a need for many design consultations, and 3D renderings of a what your project will resemble when completed.

I have created my own code approved vinyl railing line, that makes upgrading from wood railings to a low maintenance option affordable, and almost impossible to pass up. I offer more options on railings than most you can find. From 2x2 square traditional balusters, to aluminum both in round and square, as well as full custom made tempered glass panels. Custom top rail options are also available.

My latest addition is a custom low voltage lighting line.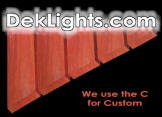 I have fixtures and post caps that match any decking material and railings perfectly, and come with replaceable L.E.D. light bulbs, that last 50,000 hours+. Having replaceable bulbs also allows me to give you warm white light, to super cool bright white. The choice is yours, and all come with a 5 year warranty on defects. Unmatched in the industry. Ask me about it. I'd love to tell you more!

We also provide remodeling and restoration service for existing decks, porches, pergolas, or any outdoor structures needing new flooring, surfaces, railings, decorative rafters, etc.

For Pre-Designed deck or pergola packages, we simply need a faxed or emailed copy of your property survey, and a digital picture of the rear of your home, and detailed cost proposals can be sent to your email address, with a basic floor plan drawing to match.

For Semi-Custom to Fully Custom deck or pergola projects, I come to your home to meet and discuss what you would like to see built. After this visit, I take all of the ideas you have in mind, as well give many ideas for you to consider. I create a complete detailed cost proposal that will provide overall costs for top quality components, and a Lifetime Workmanship Warranty*. All backed by a Best Price Policy**

If you would prefer, as many do, to have very realistic 3D renderings made, to very closely resemble what your completed project would look like, down to every detail discussed, we can provide these for a refundable fee. Fee is based on size and scope of project, and includes an online photo gallery of 30-40 pictures, showing your project from many angles. Average projects have a base price of $250, and go up for larger designs with many design features or options. You can use this gallery to fine tune every detail, and to share with family and friends,, or even other builders, if multiple construction bids are desired (I recommend at least 3 from "Like" quality builders). If you choose to use me for your project, this fee is credited into the final payment of your project.

Once you have decided to use DecksNJ.com for your project, I will provide everything needed to complete your project, right down to engineered plans, if needed. Sealed Engineered plans carry an additional fee, depending on size and scope of plans.

My crews have fully equipped work trucks, and only build decks and garden structures. We build these projects 12 months a year, and do not need to remodel bathrooms, kitchens, etc. to stay busy. This makes for an efficient and top quality deck, pergola and garden structure construction process.

From start to finish, I have my hands on all phases of the building process. I am on the job site, or able to be reached by cell phone, to make sure all details are accurate, and that I am available for any questions that may arise during construction. Since I am the person that sold you your deck project, designed it, created its plans, and supervised its completion, there are no worries of things not turning out as I have explained, and detailed in your designs and cost proposal.

I also constructed this web site myself to showcase all of my completed projects for potential clients. I take many, many pictures of every project during construction and after completion. This arsenal of photo albums help my new clients to make educated decisions after being shown photos of possible ideas that may be incorporated into their own design.

Please browse the many photo albums on my gallery pages that interest you. Any questions or concerns you may have can be answered by clicking on the information request button located below, or in in the left menu margin of every page.

Ask any questions you may have in the comments section and I will respond personally by email, or with a phone call and visit if you prefer.
Thank you for your interest, I hope to complete your next deck or pergola project, and add you to my long list of satisfied customers.
___________________
OFFICE
(973)970-DECK
(973) 970-3325
_________________