DecksNJ.com is New Jersey's Only Choice for Quality Pre-Designed and Custom Built Decks
Pergolas, Porches, and Railings, Backed up with a LifeTime Workmanship Warranty, and a Best Price Policy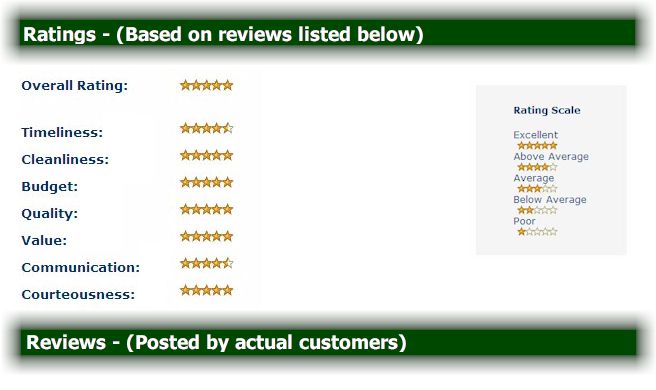 Go to DecksNJ.com HERE

Customer Name: Fred Laforge
Hackettstown,

New Jersey

Rating:

Joe and his crew did a fine job building our beautiful deck, Always on time when scheduled, easy to talk to, job site clean with a minimum of disruption to the household. Exceedingly professional job.

Customer Name: William Waggoner
Blairstown,

New Jersey

Rating:

It is refreshing to deal with an HONEST CONTRACTOR! Joe was on time, on budget, and delivered more than we expected. Although these are tough times and quality can sometimes be set aside for price, choosing Joe was easy. His work is the highest quality and he simply delivers what he promises. At no time were we left in the dark to wonder if we chose the right contractor to do this job. The work is above FIRST CLASS!!!! Straight and level, nothing to regret at all, will hire again! Anytime!

Customer Name: Rob & Jessica
Nutley,

New Jersey

Rating:

Joe Decks designed and built our deck exactly as we envisioned it. We particularly liked the detailed estimate where we can pick and choose options (with prices listed) so that we could get what we want within our budget. There were no hidden costs. Joe and his team are extremely courteous. Joe was at our home each day of the job and he even offered to fix our garage door opener. The quality of the deck is great and we look forward to many years of enjoyment on it! Highly recommended.

Customer Name: A. Troy
Montclair,

New Jersey

Rating:

Joe Decks is the ultimate professional and is pleasure to work with. He has consistently meet our projects needs by far. The end result exceeded our expectations and transformed our backyard to our personally refuge.

Customer Name: Nurys & George Sabando


Marshalls Creek, PA

Rating:

Primarily Joe Decks is an honest and righteous contractor. We are very happy to have found him. Joe and his crew behaved in a very professional and friendly manner and their work reflects it. Joe Decks says he builds decks, NOT true, he makes furniture. It's obvious he loves what he does and he can do some awesome things with that Ipe', what a beautiful piece of wood.

Customer Name: Rob & Emily Edwards


Hacketsstown

,

New Jersey

Rating:

Joe did a fabulous job with our deck. He created custom railings using the wood and vinyl railings to create a beautiful easy to maintain outdoor space for our family.
Customer Name: Eric & Liz Gershon
Sparta,

NJ

Rating:

Joe is terrific. A real craftsman. He and his crew were terrific, neat and clean. We could not have done our project with out Joe. His ideas were outstanding I wish I could have used everything he recommended. I would not hesitate to use Decks NJ(Joe)again. Don't think about it jump at it or you may not get him he is that busy.
Customer Name: S. Jaworski


Hillsborough

,

NJ

Rating:

Joe is an excellent deck builder. His work was the best we have seen. We love our deck.
Customer Name: Elaine Arezzo
Mahwah,

NJ

Rating:

Our deck came out so much better than we had even hoped. The replacement "gate" you constructed blends in beautifully with the stone wall and replicates the shape of the old gate perfectly. The time, effort and pride you put into that are truly appreciated. We were also impressed that when the oil color we originally picked did not hold up because it was a defective batch, you re-oiled our deck and gate at no cost to us. I would recommend you highly for your courteous, neat and timely work.
Customer Name: Joel & Rhonda Rubins
Verona,

NJ

Rating:

Joe was extremely insightful in the design of our new deck. His expertise greatly assisted us in choosing the appropriate materials for the rails, decking and accent pieces. The estimate he presented with us was right on target with no hidden fees and his crew were true craftsmen. Joe's design ideas were top-notch. He made the entire process a painless fun project- we love Decks NJ and are looking for Joe to assist us in our next outdoor hardscape project.
Customer Name:

Lucille Zawistowski




Hackettstown

,

NJ

Rating:

Joe built us a beautiful Timbertech deck. He listened to our ideas, and respected our budget for this construction. Joe designed the deck accordingly and within the specifications of our townhouse association. We are most pleased, and look forward to having Joe build a screened porch for us next year.
Customer Name:

Vince Casciano




Watchung

,

NJ

Rating:

I am extremely satisfied with Decks NJ. In an environment where even a returned phone call is rare, Joe's constant communication was a welcomed surprise. The craftsmanship of the work was impeccable and the finished deck surpassed our expectations.

Customer Name:

Jack Perna




Totowa

,

NJ

Rating:
*

Customer Name:

Charlie Chang




Flanders

,

New Jersey

Rating:

Awesome deck builder. Great communication. Finished deck has exceeded our expectation.

Customer Name:

Patty Greenberg




west orange,

,

nj

Rating:

Joe is a person who has the "old fashioned" work ethic which is rare to find. He did an excellent job and created a beautiful deck which has enhanced our home. He stayed within our budget and gave courteous, professional, and honest service. We highly recommend him as both a craftsman and an individual of outstanding character. Patty and Alan Greenberg

Customer Name:

Greg Pelosi




Berkeley Heights

,

New Jersey

Rating:

Joe did excellent work and I would highly recommend him. He informed us on all stages of the project and responded to our inquiries quickly and to our satisfaction. The workmanship was superb.

Customer Name:

James Hua




Ridgewood

,

New Jersey

Rating:

DecksNJ.com is by far the best contractor I've ever worked with. Joe is honest and professional. He is very detailed oriented and his work is flawless. Most of all, he is patient and will go over all the details before he starts. Joe is always on the job creating the masterpiece himself. I welcome anyone who is thinking of hiring him to come see the deck and shed he built for me. I recommend Joe without any hesitation. Thank you Joe!

Customer Name:

Steven F. Armstrong




Hillsborough

,

New Jersey

Rating:

Joe and his crew are Effective & Efficient, with a work ethic that should be an industry standard that sets up by example, with Joe leading his men not watching them.

Customer Name: S

teve Meehan




west caldwell

,

new jersey

Rating:

***

Customer Name:

Christina Minardi




Wayne

,

NJ

Rating:

Joe and his company DecksNJ.com were excellent! He is by far the best home contractor we have ever worked with. His work is perfect and the best part him and his team were very neat! We are very happy with our beautiful IPE deck! Thanks Joe!

Customer Name:

Catherine




Ridgewood

,

New Jersey

Rating:

Joe and his crew were fantastic! He did a great job - always on site and always available. I highly recommend them.

Customer Name:

Karen & Joe Pascucci




Clifton

,

New Jersey

Rating:

We hired this contractor after interviewing several. His work is impeccable! We are so thrilled with our deck and the professionalism he displayed. We recommend him highly.

Customer Name:

Luciano Soldiviero




Hillsdale

,

NJ

Rating:

This is by the far the most honest and straightforward contractor I have ever dealt with. He and his crew are true professionals. His personal attention to details, craftsmanship and quality control are exceptional. You will be very happy with his work. He goes over everything with you in full detail from start to finish. There were no hidden surprises regarding project cost. He's a very nice guy and he keeps the job site clean and safe. I would recommend him to family and friends.