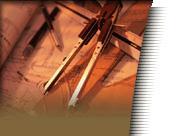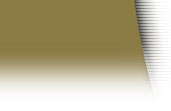 ___________________
OFFICE
(973)970-DECK
(973) 970-3325
_________________
Coming Soon!
Our New Line of LED
Lighting for Decks, Porches,
Fence, and Landscaping.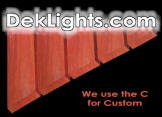 _____________
As seen in


Magazine
____________


Member of



North American Deck & Rail Association











_____________________

Proud Participants of



Program
and Homes For Our Troops






___________________


DecksNJ.com Current Specials
Pre-Designed Deck Packages
and More!
________________________________________________________________________________________________________




Composite Deck Specials - Ends November 30th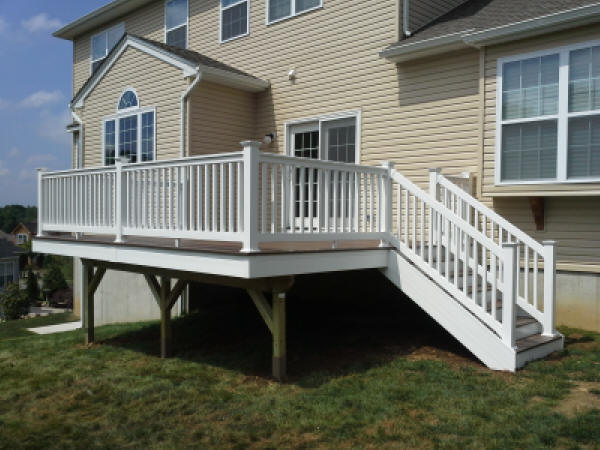 12x16 Composite Deck - $7,000.00
12x20 Composite Deck - $7,800.00
16x16 Composite Deck - $8,400.00
16x24 Composite Deck - $11,600.00

Includes: Fiberon Decking in Brown or Grey, Our own vinyl railings with 2x2 square balusters, Double 2x10 beams with 2x8 floor joists, blocked and picture-framed, hidden screw system by CAMO, Advanced footing system with barrier sleeves on support posts, guaranteed to never rot.
Plans provided for free (for pre-designed)
Permit costs additional.

Add $180.00 per step unit needed (4' wide)
Additional decking selections available at cost.
White Fascia trim and skirting options avaiable.
(Railings, trim and skirting available in other colors, ask for options and cost)
Our own Lighted Post Caps and fixtures for sides of posts, flush mount in deck, or on stair risers available.
Ask to see examples of our lighting.
Best look, at the best price, with the best warranty.
WE WILL NOT BE UNDERSOLD!*
INCLUDES LIFETIME WORKMANSHIP
WARRANTY!**
______________

One of our most popular material packages,
which keeps costs low, and tedious maintenance to a minimum:
Easy to stain treated pine flooring (stains today last 5-7 years),
and rinse clean with a garden hose vinyl railings.
(click on pictures above to see full project galleries)




Premium grade treated pine floor, which is easy to stain every 5-7 years,
paired with our heavy duty commercial grade white vinyl railings,
instead of wood, eliminating the more tedious work of maintaining.
Simply spray with a bleach cleaner and hose off.
_______________________

________________________________________

Pre-Designed Wood or Composite decks
~Treated Pine
~Composite upgrade available
~Solid Vinyl/PVC upgrade available
~Ipe' wood upgrade available
~Vinyl and Aluminum Railing upgrades available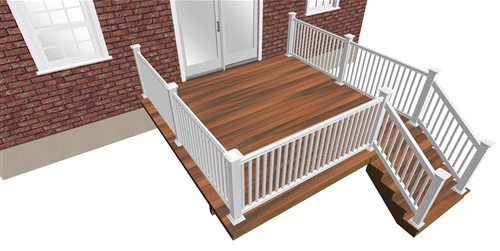 Deals like these cannot be matched!!...

unless by a specialized deck building company that buys truck loads of premium grade decking
like we do, or without hurting their profit to the point where your project becomes more of a liability
and burden to the builder once your project has been started.

We buy bulk treated pine and Ipe' (Brazilian walnut)
and composite decking from name brand manufactures.
Trex, Fiberon, Evergrain, TimberTech, Cven, Azek, Guardeck, Royal Vinyl,
Latitudes, and more!

For the most low maintenance material available, upgrade to a solid PVC or vinyl product!

We also have a heavy duty white vinyl railing system with aluminum rail inserts for added strength,
and a baluster selection that cannot be matched by the big home improvement stores.
We commit to a large linear foot order each year to allow us to offer such a high quality
railing system for such an economical price.

____________________________________________________





Includes our own commercial grade
white vinyl railing system!


(Fall/Winter discounts cannot apply to these already low project costs)



Project costs include:
a square or rectangular deck
bolted to your house wall with protective flashing
and Fastenmaster LedgerLoc bolts,
All footings dug and approved footing bases installed,
Main carrying beam with support posts,
All framing done with Simpson Strong-tie hangers,
Name Brand decking with a 15 year (minimum) limited stain and fade warranty,
and our own commercial grade white vinyl railings!


Items which will add to total cost:
Plans and Permit fees additional, and paid for by homeowner.
Demo and removal of any existing structures.
Any Staircases and Or Landings needed.
Hidden fastener system to eliminate 90% of deck surface screws.
Grill alcoves or other bump-outs.
Color matched or white fascia trim.
Lattice or Solid Skirting treatments.
Decks that are higher than 6 feet, and up to 10 feet, add 10%
Decks higher than 10 feet, upcharge must be determined by design.
Any additional footings and beams for pool/free-standing decks.
Upgraded material will be additional depending on which product is selected.

----------------------------------------
Some other options at additional cost are:
Diagonal or beveled angles on outside corners of deck.
Diagonal pattern, or Feature board inlays on deck surface.
Baluster upgrades to colonial style, or 8 others, including glass
and aluminum. (See all railing options on our railing page)
ADA round handrails on staircases (required by some towns).
Concrete, paver stone, or Blue Stone bottom pads for staircases.
(These and other options can be viewed on our details page.)





Decks NJ Wood Deck Package with upgraded
Railing Style #2, and Lattice Skirting Option.
Decks NJ Wood Deck Package with Aluminum Baluster Upgrade and Lattice Skirting Option.
Completed Deck Package with composite upgrade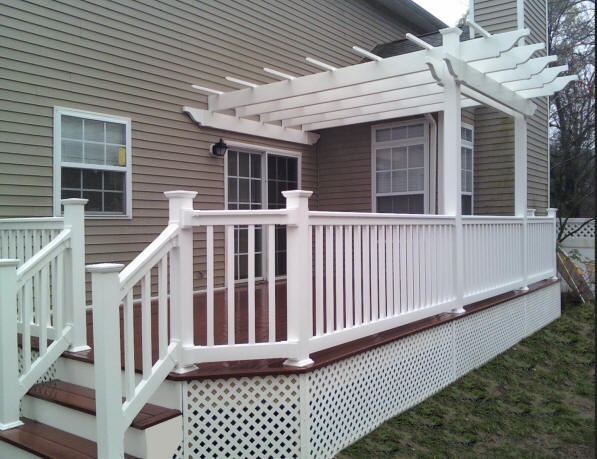 12x20 deck package with 2 riser staircase added, along with optional 14x10 pergola,
lattice skirting, and upgraded Trex Brasília decking surface.
(Fascia option was purposely left off this deck, as homeowner opted to allow lattice
panels to cover wood rim board of deck, and use some savings on pergola feature)


NOW AVAILABLE!!!
(reasonable upgrade charge)

Solid Vinyl Interlocking Decking
Gorilla Deck interlocks to create a water tight surface.
This minimizes substructure decay and gives a dry, usable area below.
Gorilla decking is cool to the touch, easy on the feet, and maintenance-free.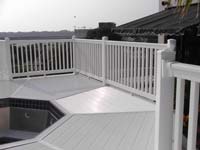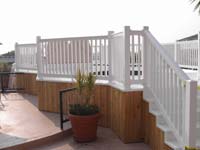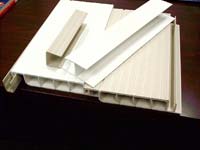 Consider this:
Lifetime Transferable Warranty
Slip Resistant
Watertight
(Will provide dryspace under deck)
Cool to the Touch
No Splinters, Nails, Screws
No Rotting or Insects
ICC Compliant ESR-1675 2003 IBC & IRC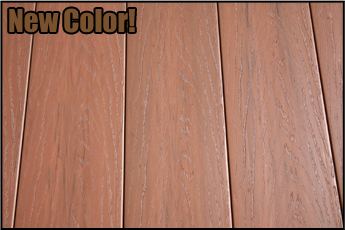 New!! Woodtone color with realistic dark streaks.
Slightly higher cost than colors below.

Other Available Colors: White - Adobe - Tan - Gray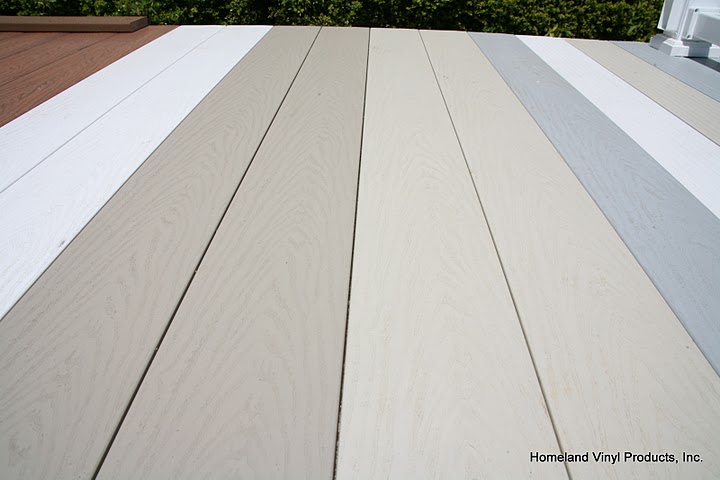 Gorilla Deck vinyl decking has a patented interlocking design that creates a water-shedding surface
that's so watertight, it prevents water from traveling below.

It stays cool even in the hottest weather. Our vinyl decking is unaffected by weather and UV rays.

The introduction of vinyl decking allows you to have a great looking patio that can never warp,
splinter, or fade.

There is no better material for around pools because the dampness and chlorine
present in those conditions has no effect on this surface.
________________________________

___________________
OFFICE
(973)970-DECK
(973) 970-3325
_________________